Call Us, Toll FREE at (866) 491-3536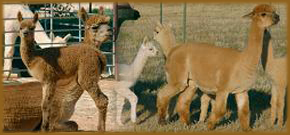 North Texas Alpaca RanchRaising Alpacas, Breeding and Boarding Services, and Fine Alpaca Clothing in Kaufman, Texas
Snowmass Matrix FREEDOMnow Standing Studat Timber Lodge Alpacas

GREAT VALUES: Listings updated April 15, 2013

Alpaca Ranching, Texas Style
Alpacas in Texas? You betcha! Texas Alpacas are rising to the top of the livestock value scale across the country. You can become an Alpaca owner when you visit Timber Lodge Alpacas. Since starting business in 2004, one thing has become apparent: Your success with Alpaca ranching, is our success. You can start your Alpaca herd, by picking animals from our high value herd, many from rare, and elite bloodlines. Your breeding decisions will define your herd as it grows. You can choose breedings from our high quality males, or choose females bred to our males. What could be easier? Don't have a farm or property for your herd? You can board your Alpacas with ours, and we will treat them just like part of the family. You can count on Timber Lodge Alpacas for very high quality breeding stock, and exceptional services.

"Texas Weight" Alpaca Garments for Texas Style
Do you want fine, up-scale apparel made from Alpaca fiber? Garments made of the finest Alpaca fiber, provide you a unique way to update your Texas Style wardrobe. The wonderful garments you can find at our ranch reflect our overall commitment to quality and value.

Certified Sorted Fiber for Superior Products
Do you already have Alpacas and some fiber that needs to be processed? Timber Lodge Alpacas is a member of the North American Alpaca Fiber Producer's Co-op. While Certified Fiber Sorter™ services are not directly available here, we might be able to help you locate a Certified Sorter™ for your fiber. Call our toll-free number for more information on Certified Fiber Sorter™ services.


Beautiful Area for Our Alpacas, Convenient for you

Located in North Texas, within an hour of the DFW Metroplex, you will find our ranch nestled in a hardwood forest. Our secure paddock area is double-fenced, and protected by livestock guarding dogs. Visit our ranch in

Kaufman, Texas

, to speak to us about owning your own Alpacas, or come see our top quality clothing made of Alpaca fiber. We are conveniently located about 35 miles east of Dallas, Texas between I-20 and I-175.
History of Alpacas
Alpacas originated with the Incas in Peru. The Incas domesticated Alpacas from the wild Vicuña, a Camelid which produces fiber that is still considered the finest naturally grown animal fiber in the world. The ancient Incan economy was based on textiles, not gold. As weavers, the Incas valued their Alpaca fiber, and the finest fiber was reserved for Royalty. When the Spaniards invaded in 1532, led by Francisco Pizarro, the Incan people saved their Alpacas by driving them from their populated cities to the Altiplano, a hidden highland sanctuary of more than 14,000 feet in elevation. Alpacas are such hardy animals that they were able to adapt to the harsh environment and poor forage found there. Contact us to learn more about Alpacas, and how they are related to other Camelids, like Vicuñas, Llamas, Guanacos, and Camels.
Make Your Online Payment Now!
For an appointment to visit our ranch and see the Alpacas
or buy fine Alpaca garments

Call us toll FREE at (866) 491-3536