Call Us, Toll FREE at (866) 491-3536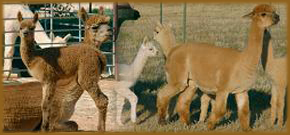 Services at Timber Lodge Alpacas
Alpaca Breeding | Boarding | Fiber and Apparel
Alpaca Breeding
At Timber Lodge Alpacas, we offer breeding services for your female alpacas.
Included in the breeding fee is boarding for your female and her current cria (if she has one) until she is confirmed pregnant up to 90 days. This practice protects the pregnant alpaca from travel stress and helps her maintain her new pregnancy. After the initial 90 days of pregnancy boarding fees are reasonable for the pregnant female and cria at her side, at $3.00/day. After weaning, the cria is an additional $3.00/day.
| | |
| --- | --- |
| | Snowmass Matrix Freedom brings some special qualities to our breeding program. He is a young breeder, and settled his first females in 2010, and has settled many other females since then. As a Beige herdsire, Freedom can cover all colors, and provide genetic gain for your breeding program. Check out Freedom's link for more information on this outstanding male. |
| Prince Regent's Treasure of Airlie, our wonderful Dark Fawn herdsire, attained a Championship show ring career, including Color Championships and high placements in halter shows and fleece shows, and a Second Place for his fleece at National AOBA Show in 2008. Airlie settled his first females during the 2009 Fall breeding season. Make your reservations early, as we expect Airlie to be quite popular. Click on Airlie's link for more information about how he can add to your breeding program. | |
Alpaca Boarding Service
If you are working to prepare your place, or if you don't have a place yet, you can board your Alpacas at Timber Lodge Alpacas. We provide safe and secure paddocks, with plenty of shade. In an emergency our vet is just minutes away. Your Alpacas will receive premium feed, hay and clean water daily, throughout the year. Board each of your Alpacas for $3.50 per day. We will be happy to make arrangements for special care, as necessary, at a reasonable additional cost. Veterinary care is invoiced at cost. Contact us for details, and to make arrangements to board your Alpacas.
Up-Scale Alpaca Garments
At Timber Lodge Alpacas, we sell sweaters, capes, shawls, stoles, scarves, socks, knitted hats, and afghans all made of exquisite Alpaca fiber. We go out of our way to find the finest, up-scale Alpaca garments for our customers each year. An additional line of extra special, one-of-a-kind products is created by co-owner Mary Ogilvie. Mary's personal touch, exceptional knitting skills, and abundant creativity have resulted in unique and beautiful accessories, which customers anticipate each year.
Characteristics of Alpaca Fiber

Alpaca fiber is among the World's most exquisite and versatile natural fibers. Naturally hypoallergenic, Alpaca fiber has no lanolin, a natural oil found in sheep's wool. Alpaca fiber is about 6 times warmer than wool of the same weight, so lighter weight Alpaca garments are just as efficient as heavier wool garments. In fact, wearing Alpaca garments next to your skin is possible, because the fiber is so fine that the "prickle effect" (scratchiness) is greatly reduced. Alpaca fiber also breathes and wicks away moisture, so you can wear it all day and stay dry. Alpaca fiber is soft, strong, comfortable, and provides the ultimate in woolen or worsted apparel. Check out the table comparing

Alpaca vs. Cashmere

in our library.
Contact us to learn more about Alpacas and the services and products we offer.