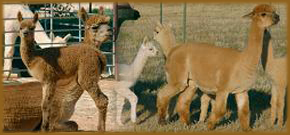 Breeding Production Stock Females, Page 2
We are pleased to offer a selection of Maiden Females and Female Crias:
Dark Fawn, FemaleDOB: 10/13/2009

Sire: Snowmasss Chaccoyo

Sire: Snowmass Legacy Gold Sire: 4Peruvian Legacy Dam: Neve's Lua Dam: Snowmass Victorian Dream Sire: 5Peruvian Chaccu Dam: Snowmass Victorian Glow Sire: PPeruvian Victor Dam: Snowmass Golden Glow

Dam: Sunny Mesa's Augusta

Sire: MFI Brock Sire: PPPeruvian Augusto Dam: PRA Belinda Dam: Columbia River's Summer Rain Sire: PPeruvian Guido

Dam: Belle Mia

Highland Lass, or "Lassie" as we know her, is Chaccoyo's first cria born away from Snowmass Alpacas, in Idaho. Her arrival was highly anticipated, to say the least. Lassie made her show ring debut at the 2010 Futurity in Oklahoma City, strutting around the ring with her very fine, dark fawn fleece. The combination of Chaccoyo's genetics and those of Augusta make Lassie a very desirable female for any breeding program. Lassie was bred to our Snowmass Matrix Freedom and delivered a handsome Light Fawn male we named Freedom's Impact.
Dark Brown, Female
DOB: 09/20/2010

Sire: Tierra's Poseidon's Storm Cat

Sire: Caligula's Accoyo Posiedon

Sire: PPeruvian Caligula

Dam: 6Peruvian Accoyo Rayna

Dam: Tierra's Patina

Sire: Elk Appollo

Sire: PPPeruvian Grand Master

Dam: 4Peruvian Camelot

Dam: 6Peruvian Bonnibelle

Dam: Cognac's Stars At Night

Sire: Snowmass Red Hot Cognac Sire: Snowmass Red Hot

Dam: ALOA Lucita

Initially, we had another service sire picked out for Stormy's dam, Stars at Night, but for one reason or another, Stars did not hold her pregnancy. We sent her to visit Dr. Toni Cotton, who had a serious conversation with Stars and she got pregnant right away. Bred to Posiedon's Storm Cat, Stars produced a Dark Brown female cria, MJ's Storm Cloud. The genetic blend of Posidon and Snowmass Red Hot Cognac is quite striking. Stormy is one fine girl. Stormy's pedigree uncovers a deep collection from some of the country's most distinguished breeding programs. MJ's Storm Cloud, bred to our Snowmass Matrix Freedom, delived a beautiful Light Brown female cria in January 2017.