Call Us, Toll FREE at (866) 491-3536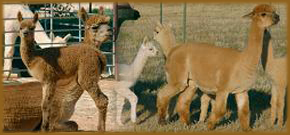 You can find the Ogilvies representing their alpacas or alpaca products and garments at several alpaca shows and events throughout the year. Whether it is a big alpaca show or a community festival you can have fun and see what the alpacas have to offer by visiting with Timber Lodge Alpacas. Come on out to one of the following venues and say that you saw the listing here.
Please call us for more information at (972)962-8317 or (866)491-3536 toll free, or you can email us, info@timberlodgealpacas.com.
September 27 & 28, 2014


National Alpaca Farm Days


Timber Lodge Alpacas Kaufman, Texas

The Ogilvies enjoy opening our Timber Lodge Alpacas on National Alpaca Farm Days to introduce our animals to the general public, and to show folks the wonderful world of alpaca ownership and breeding. Take some time for a short trip out to our place to meet the alpacas. You never know what you might find as your next adventure.
November14-16 2014


A-OK Alpaca Blastoff Halter Show


Lazy E Arena,Guthrie, Oklahoma


The A-OK Alpaca Blastoff is always a friendly and fun show. This year, like last year, the show will be at a great arena, the Lazy E in Guthrie, which is the birthplace of professional bull riding. That aside, it is a very good venue for a wonderful show.

December (TBA) 2014


Old Town Christmas Market


San Jacinto Court
Rockwall, Texas


We had a great time at this event in 2013 and hope to participate agian in this well established annual event. The festival is only one day long, and is hosted in conjunction with the Annual Kiwanis Christmas Parade so make plans to get there early and stay all day. The market is located in Historic Downtown Rockwall, Texas, just south of the Historic Courthouse.

February13-152015

TxOLAN Spectacular Halter Show


Will Rogers Memorial Center,
Ft. Worth, Texas


This year, the TxOLAN Spectacular will return to the Will Rogers Complex in Ft. Worth, Texas. Plan to join us, and be sure to get good driving directions. The TxOLAN show is our big regional event and it draws entries from all over the country. This competition usually includes a large number of Huacaya and Suri alpacas, with highly aclaimed judges. The TxOLAN show is always a fun event, full of great animals, interesting vendors, and often some informative seminars.