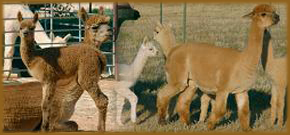 Breeding Production Stock Females

We are pleased to offer a selection of Production Stock Females:
Bay Black, Female
DOB: 10/4/2008

Sire: High Plains Aviator (Dual Registry: US/Canada)

Sire: HFL Super Sam (Dual Registry: US/Canada)

Dam: HP Avia

Dam: Sunny Mesa's Augusta

Sire: MFI Brock

Sire: PPPeruvian Augusto

Sire: PPeruvian Leon

Dam: Columbia River's Summer Rain

Sire: PPeruvian Guido

Believe it or not, Nike, this bay black beauty is the full sister to Aurora, our gorgeous white female, both out of our Sunny Mesa's Augusta and High Plains Avaitor. They share characteristics from their typey head to their great conformation. Their sire, High Plains Aviator is registered in both the US and Canada, and his genetics package is very rare in this country. We hope to help this situation with both these wonderful females breeding to excellent Texas herdsires.

Nike holds wonderful potential for our breeding program, due to her pedigree and phenotypical genetic characteristics. In Spring 2011 she was bred to our Snowmass Matrix Freedom and produced a very nice medium brown female cria in 2012, named Freedom's Belle. Nike is currently open.

White, Female


DOB: 7/13/2004

Sire: Caligula's Accoyo Poseidon

Sire: PPeruvian Caligula

Dam: 6Peruvian Accoyo Reyna

Dam: PPeruvian Alisa

Zoie is a robust girl and her bright white fleece stands out among our mostly colored herd. Zoie provides a good way to get exceptional Poseidon genetics to blend with your own breeding program. Zoie produced a white male cria for us in the Spring of 2012 sired by our Treasure of Airlie, which we named The Lone Ranger, considering his handsome dark brown mask and feet. Zoie is currently open.

Medium Brown (Mahogny), Female

DOB: 08/15/2002

Sire: DPA Quetzal
Sire: PPeruvian Timoteo G4565
Dam: PPPeruvian Cornus 4722 Dam: Pine Ridge Alpacas Sienna
Sire: Peruvian Gold Rush G180
Dam: Ms. Coco
Sire: SA Emperado



We chose Xcella for her Quetzal/Timoteo connections. Xcella is a beautiful Mahogny color. Her rich brown color is enhanced with a reddish hue which makes her distinctive in a crowd. Xcella is one of the largest alpaca in our herd. Xcella produced Marcella, another one of our breeding stock females, who has subsequently been sold, and Turbo a dark fawn male cria by Treasure of Airlie, which provides a blend of Yupanqui/Fabio, with Xcella's Timoteo/Quetzal. We believe Xcella is too old to breed again, although she has been an excellent mother and great addition to our herd.

Medium Fawn, Female

DOB: 05/01/1998

Sire: Acero Marka's Bobby

Dam: Uber's Trixi

Sire: Uber's Diamond Dam: Uber's Tina Maria


Theresa is the first alpaca we added to our herd. She has produced such award winning crias, as Tobiano, and our own Treasure of Airlie. Theresa carried 22 micron fiber into her seventh year. Since then, we have not bothered with fiber testing, but we know her fleece maintains a fine handle and high density. In the Fall of 2009 Theresa delivered a medium fawn female cria by Windrush Jennifer's Zindel, we named Zindel's Hot Toddy. The following Fall, in October of 2010, she delivered a true black male cria by Snowmass Andean Night, we called Andean Dark Knight. Theresa is nno longer being bred.