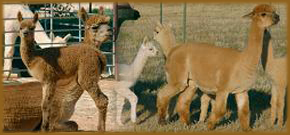 Herdsires and Junior Herdsire Males

We are pleased to offer a selection of Top Quality Herdsires, and Unproven Junior Herdsires:
Light Fawn, Male

DOB: 12/7/2007

Sire: Snowmasss Matrix

S: Snowmass Quechua D: Snowmass Legacy's Lass Dam: Snowmass Lady Liberty S: Snowmass Royal Reserve D: Snowmass EVOQ

We were very fortunate to acquire Snowmass Matrix Freedom as a replacement for our Snowmass Chaccoyo, who passed away on August 1, 2010. We never expected to be able to find such an exquisite male to pick up where Chaccoyo left off.

For a complete description, click here for Freedom's page

Breeding Fee: $1,500Sale Price: ASK
Prince Regent's Treasure of Airlie


Dark Fawn, Male DOB: 6/19/2006

Sire: Enchantment's Prince Regent

S: PPPeruvian Yupanqui 6018 D: Enchanment's Peruvian Jennifer S:Peruvian Fabio

Dam: Ameripaca's Theresa

S: Acero Marka's Bobby D: Uber's Trixi

Click here for Airlie's page.


Airlie provides some very good genetics for our breeding program, and we are fortunate to have Prince Regent's Treasure of Airlie in our program to pass along those exceptional genes. Airlie's breeding career started in the Fall breeding season of 2009, and today he has four offspring on the ground.Airlie has an outstanding show record, with First Place ribbons and Color Champion, as well. He has never placed under Second Place in any show he entered. Airlie's fleece placed Second Place at the 2008 National Conference. In 2011, Judge Tim Lavan said of Airlie's Second Place showing among much younger males, "This is what we want to see in our mature males." Even at six years of age Airlie's fleece remains under 20 microns AFD, and has not changed more than 0.6 of a micron over his lifetime. (Update: The 2012 histogram shows Airlie's seventh year fleece to be 20.8 microns , crossing the 20 micron barrier for the first time.) For fineness and consistency of crimp in his fleece, a typey head and upright body style, Airlie is a good choice to improve those characteristics in many females. Call us to schedule a breeding for your females.

Breeding Fee: $1,000

Sale Price: $7,000
Dark Brown, Male
DOB: 9/14/2010

Sire: Snowmass Incan XXXtreme
Sire: Snowmass XXXtreme
Sire: Snowmass Royal Rose Sire: Peruvian Hemingway Dam: Snowmass Rose Pearl Sire: Peruvian Bueno Dam: Snowmass Silver Pearl
Dam: 5Peruvian Harley Dam: Snowmass Incan Royalty
Sire: Snowmass Nova Sire: Peruvian Cassanova Sire:Peruvian Bueno
Dam: Peruvian Angelique
Dam: Snowamss Drambuies Kaluha Sire: Peruvian Drambuie
Dam: Cordelia Codi
Dam: Snowmass Incan Eclipse Sire:Peruvian Black Legend Sire: Peruvian Bueno
Dam: Kesling's Roxanne
Dam:6Peruvian Incan Eclipse

Dam: Soleado's Andean Nightingale Sire: Andean Night
Dam: MS Primadonna Sire: 6Peruvian Accoyo Godfather Dam: MS Prima Sire: 4Peruvian Accoyo's Macusani Dam: Princess Codi Sire: Boss Man Dam: Miss Iquique
Nightingale's sire, Andean Night, has been an interest of ours for quite some time. We wanted to breed a different female with him, hoping for an upscale version of them both. However, the female was young, and could not hold her first pregnancy. So, we opted for one of Andean Night's crais, Soleado's Andean Nightingale. Fortunately, we had an opportunity to choose Incan XXXtreme for her first breeding. Nightingale gave us a male cria, which we named Incan Maxxx.

Maxxx's head is blocky, typey, fully covered with fleece, and quite handsome. His body type is robust, and he will not submit in any altercation he encounters in the paddock. This guy is powerpacked from the ground, up, and his genetics package is strong with elite Snowmass genetics on top and bottom. Maxxx is a benefit for our future breeding program, and can be for yours, too.